Modern, charming villa on the hill of Cervo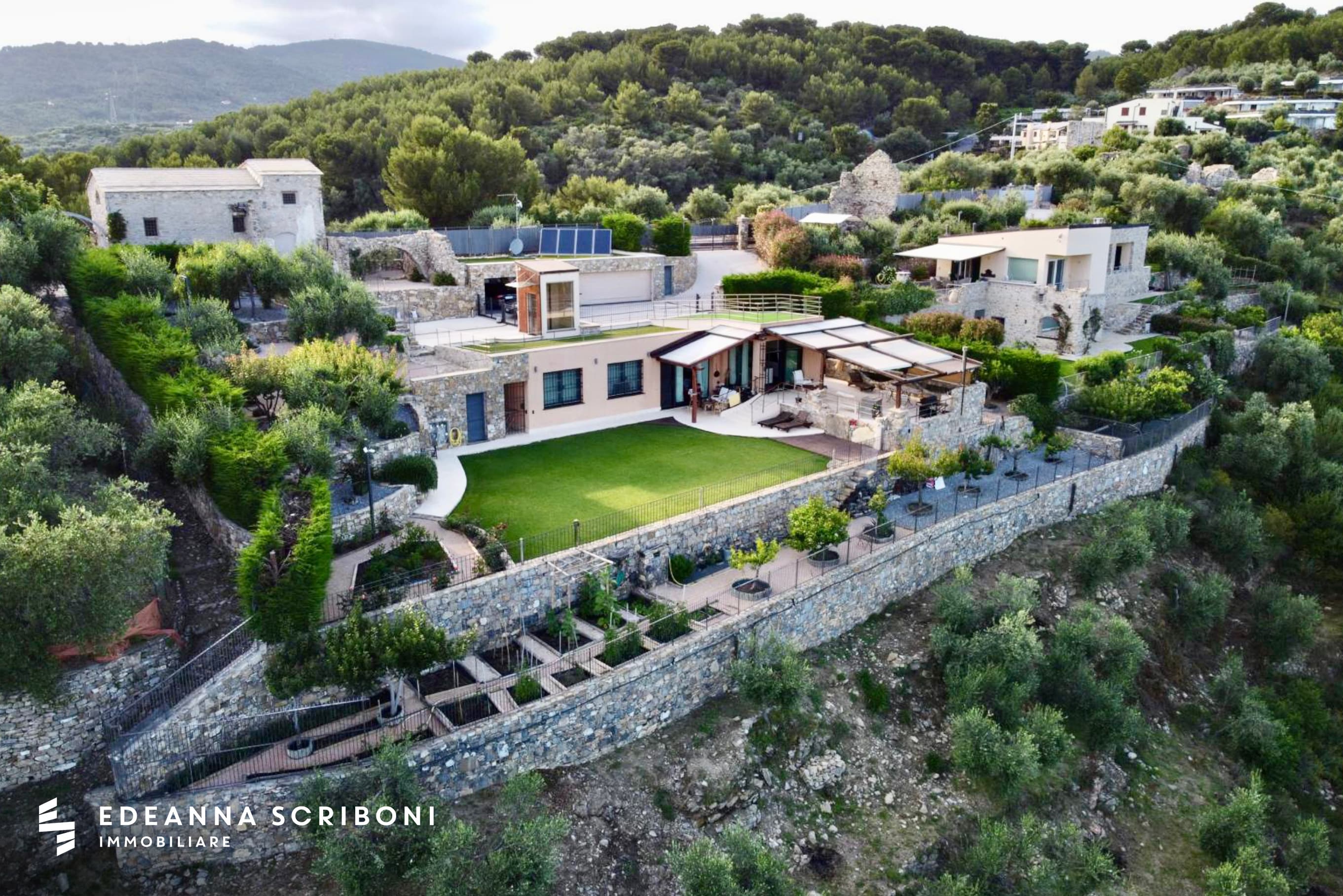 Comfort, luxury and simplicity
Spacious, modern, and cutting-edge, this property welcomes its owners with ample space for four cars and a double garage. It's hard not to be captivated by the breathtaking sea, hillside, and charming village of Cervo, as they can be admired from most of the external and internal points of the house. On this level, there are several tiers of gardens, with access to a more ancient area bordering a picturesque historic church.
The garden, spread across different levels, offers an unparalleled experience, with a variety of landscapes to explore and enjoy. The well-planned design of the various terraces creates a harmonious and captivating atmosphere. Additionally, direct access to an older section of the garden, adjacent to a historic and fascinating little church, adds a touch of charm and history to this property.
Every room of the house has been thoughtfully designed to maximize the panoramic views, allowing you to embrace the beauty of the surroundings from every vantage point. The outdoor spaces, elegantly crafted, seamlessly blend with the interiors, creating a deep connection between the residence and the surrounding nature.
This home is truly an oasis of modernity, comfort, and beauty, where the spectacular views are just one of the many elements that make it one-of-a-kind. The combination of cutting-edge design and the historical and charming setting of Cervo creates an unparalleled living experience, fulfilling the dream of those seeking an exclusive and prestigious residence.
Features
Furnishing
Partially furnished
Other
Project for swimming pool and annexe, underfloor heating, six total parking spaces, video surveillance, stereo system
Through the elevator, as well as the external stairs, we are led directly from the parking level to the bright living room, where the Ligurian stone blends harmoniously with historical, luxurious, and especially modern elements. The kitchen, spacious and functional, is equipped with all the necessary amenities. Adjacent to the living room, we find a study, a large pantry, and a first bathroom with a shower. On the TV monitor, it is possible to control the entire house's video surveillance system, providing additional security.
An elegant corridor leads to the bedrooms, one of which is larger. This latter one offers the advantage of a walk-in closet and an en-suite bathroom with a shower. From here, access to the garden is possible through a dedicated door, creating an easy connection between indoor and outdoor spaces.
Every room is air-conditioned, well-maintained, and equipped with all the necessary comforts. Underfloor heating or split systems and numerous automatic opening and closing French doors contribute to maintaining a comfortable and welcoming environment throughout the year.
Externally, the garden presents an impeccable appearance on this level. A terrace with an automatic awning transforms into a large dining, living, or barbecue area, offering unique moments of relaxation and conviviality. Additionally, there is a cultivated area beneath the main structure, with several terraces of land available, perfect for creating a vegetable garden or a rooftop garden.
An optional project includes the construction of a stunning infinity pool with a panoramic view, providing moments of pure relaxation and pleasure. Furthermore, the construction of a guesthouse is planned, ensuring privacy and comfort for anyone who decides to stay in this marvelous residence.
In summary, this dwelling offers a refined and modern lifestyle, wrapped in an enchanting historical and natural setting. With well-distributed indoor spaces and an outdoor area meticulously cared for, it represents an oasis of serenity and beauty, ideal for enjoying the tranquility and unique emotions that only a residence of this caliber can offer.
Wow! Cervo.
Less than 10 km from the center of Imperia, the picturesque village of Cervo (IM) stands, an enchanting gem of Liguria nestled by the sea. Over the centuries, Cervo has preserved its medieval characteristics, becoming a true pearl of the region. This charming village is admired not only for its architectural beauty but also for the unique landscape that surrounds it.
Facing Cervo, the infinite blue of the sea stretches out, creating a breathtaking view that captivates visitors. From its narrow streets and small squares, one can enjoy spectacular vistas of the maritime horizon, creating an atmosphere of tranquility and serenity.
Behind the village, the landscape changes dramatically, with green hills dominating the scene. This contrast between the blue of the sea and the green of the hills makes Cervo even more charming and picturesque. The hills provide a splendid natural backdrop to the village, adding a touch of magic to its architectural beauty.
The historic center of Cervo, with its cobblestone streets, alleyways, and stone buildings, is a true medieval treasure that has been preserved over time. Its historic houses, palaces, and monuments bear witness to a past rich in history and culture. Every corner of the village tells a story and reveals details that captivate visitors.
The charm of Cervo is not limited to its architecture and privileged location but also extends to its lively cultural atmosphere. The village hosts artistic and musical events throughout the year, attracting both tourists and residents with a variety of shows and exhibitions.
Furthermore, Ligurian cuisine is an experience not to be missed in Cervo. Local restaurants and trattorias offer delicious traditional dishes prepared with fresh and genuine ingredients, making the taste of Cervo even more unforgettable.
Other luxurious and elegant properties